Maile's Grilled Cheese Brisket Sandwich
"Nothing brings the family together like dinner at the table. Serve this Roberts' family favorite and make your next meal extra special! It's a tried and true Hill Country staple and another example of how our sauce is great on just about everything."
*recipe excerpted from The Salt Lick Cookbook by Scott Roberts and Jessica Dupuy
2 to 3 tablespoons olive oil
Kosher salt and fresh cracked pepper
1 to 2 tablespoons Salt Lick Original
BBQ Sauce
4 slices rustic sourdough bread
1 cup mild semi-firm goat cheese,
grated on large holes of box grater
½ pound sliced or chopped brisket
Arugula or watercress
Heat a 12-inch skillet on medium. Drizzle olive oil in pan and add a dash of kosher salt and 1 to 2 cracks of fresh pepper. Spread barbecue sauce on bread slices. Sprinkle half the cheese over two slices. Place half the brisket on top of the cheese. Add greens and top with the remaining cheese. Top each with a bread slice, pressing down gently to set.
Place sandwiches in skillet. Cook until crisp and deep golden brown, 5 to 10 minutes per side, flipping sandwiches back to first side to reheat and crisp, about 15 second. Watch sandwiches carefully, checking often to avoid scorching. Serve immediately. Serves 2.
Variation: You can use our Spicy sauce if you like a sandwich with a little kick.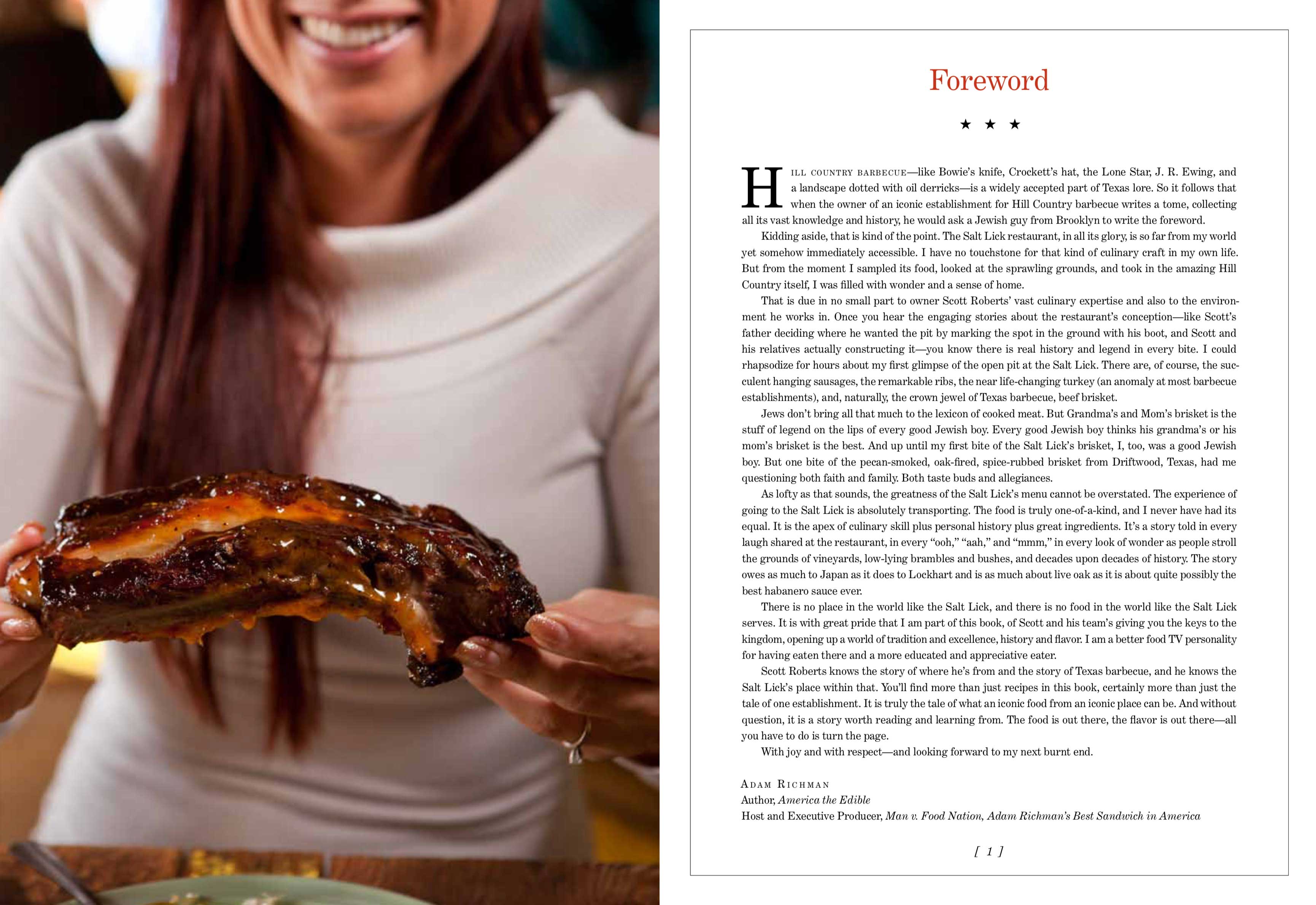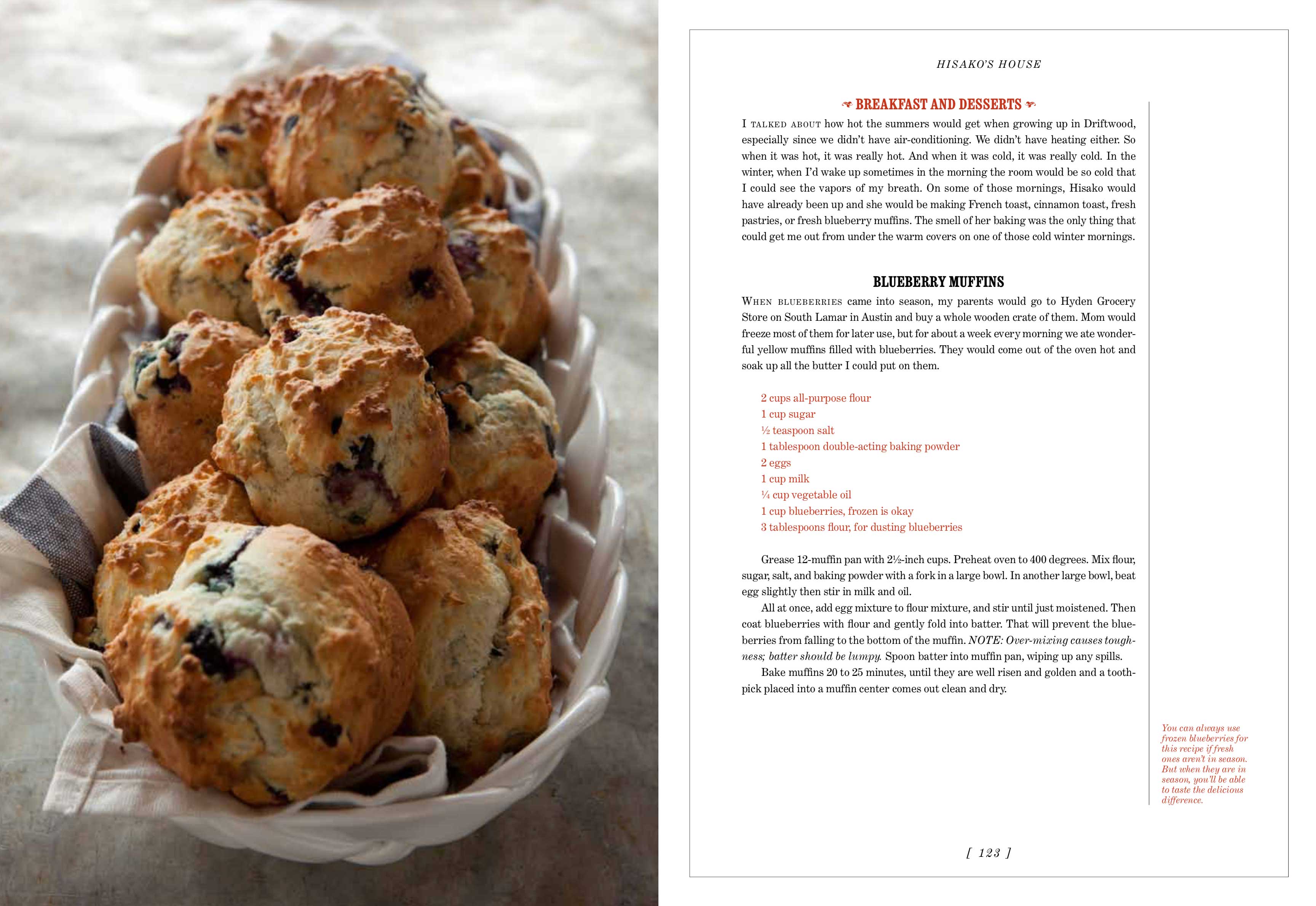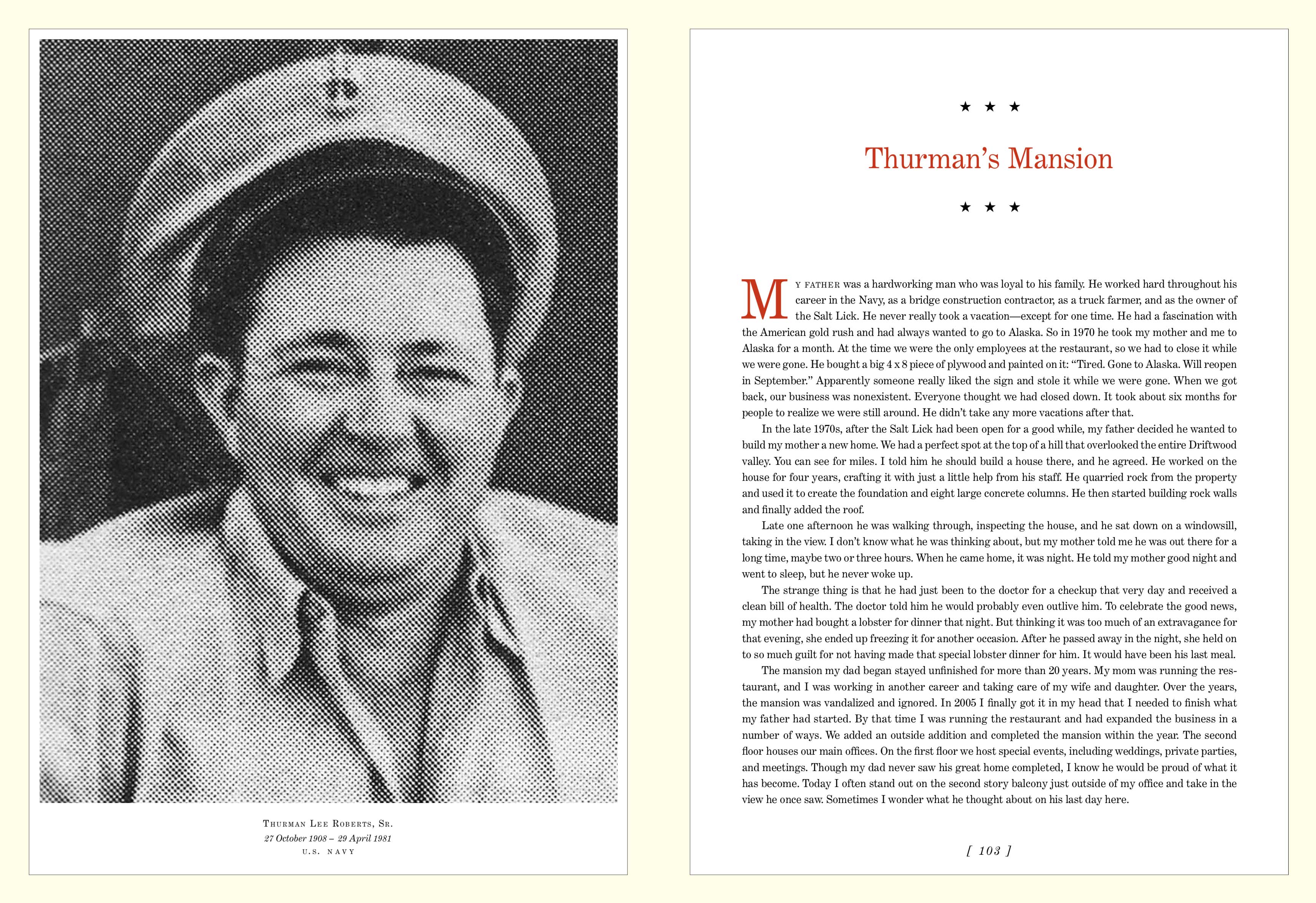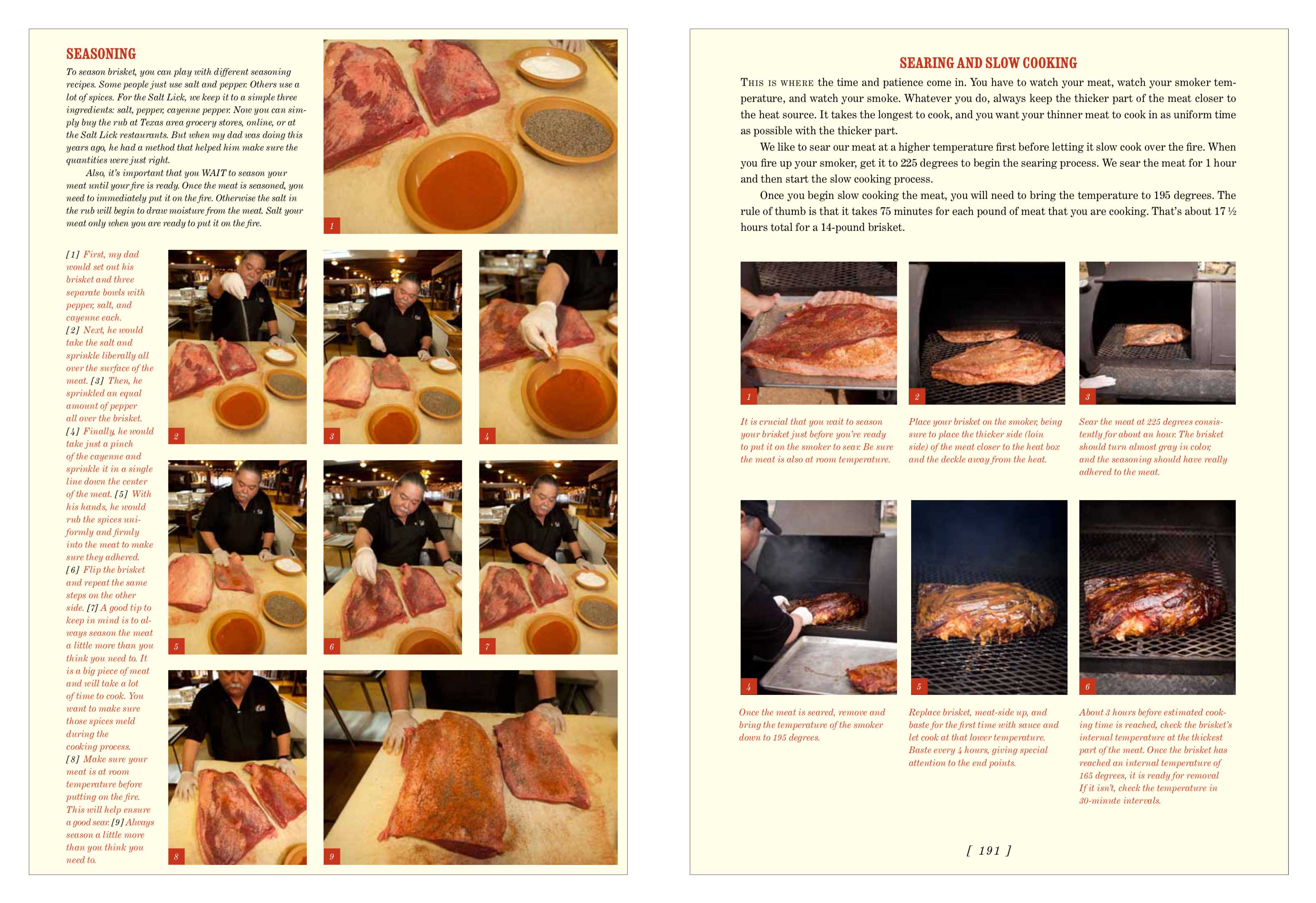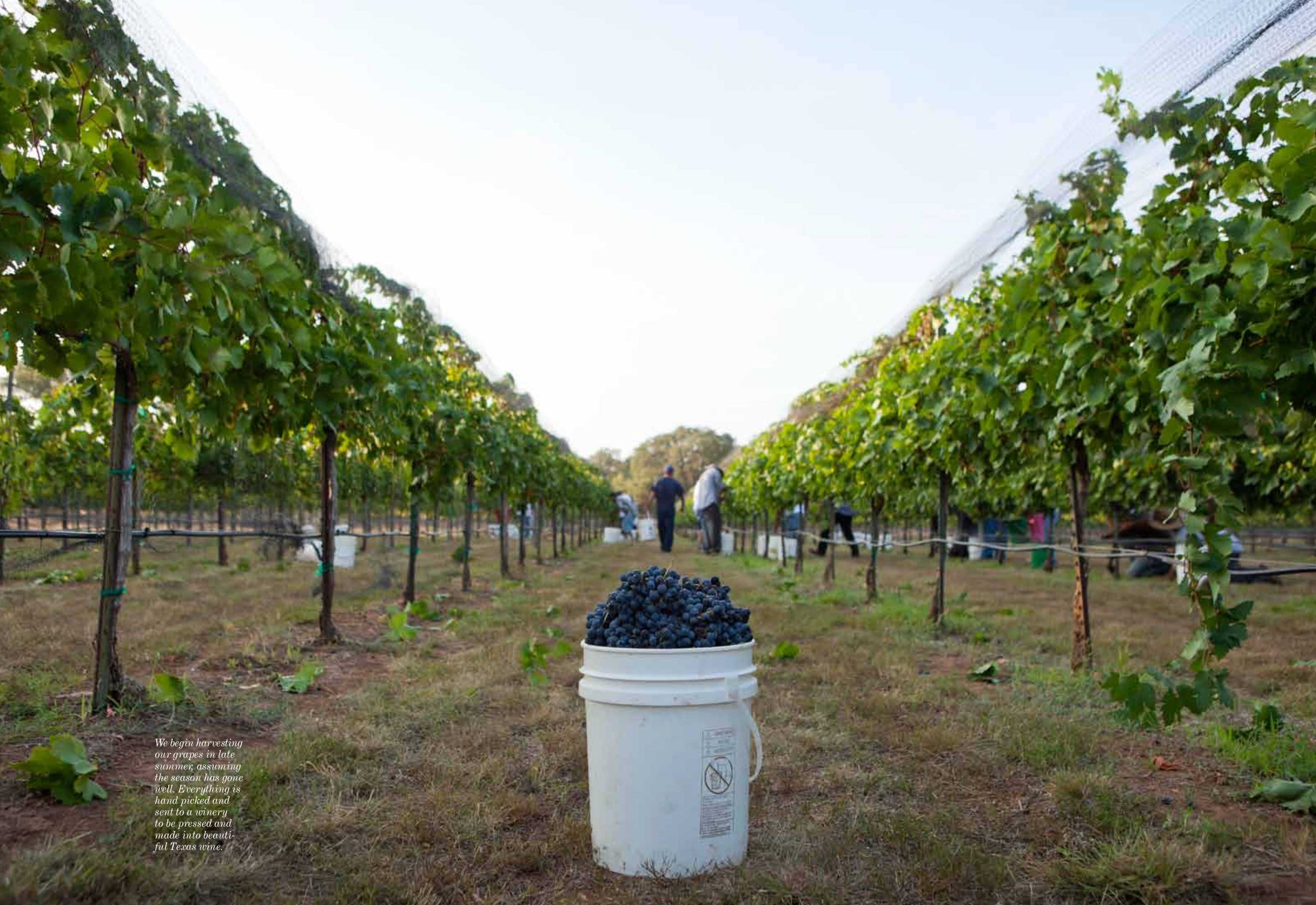 What is the mail order phone number?
For assistance or to place your order over the phone, please call our mail order department at 512-829-5295.
What makes The Salt Lick so unique?
The Bar-B-Que sauce has no tomatoes so it won't burn or become bitter. It does have sugar – a Southeastern tradition – so it will easily caramelize. We sear the meat and then move it away from the hottest part of the fire to cook slowly. We finish our products over an open fire fed by live oak wood.
Live oak is the most solid and heavy oak wood. It burns cleaner, more uniform, and the smoke particulates are finer. It gives a more distinct and lighter flavor and doesn't become gritty on the meat. We don't use mesquite because it has too much tar in it, and we feel it creates a bitter taste. When the fire flares, we throw into the flames pecan hulls soaked in water.
We put sauce on the meat four times. The high sugar and acid content causes it to caramelize on the outside. Basting and caramelizing work to hold moisture in. Sauce drips and hits the coals and the fire flares. The smoke from these flares gives the meat a unique flavor.
The first recipes for the side dishes were originated before refrigeration so they come from simple and fresh ingredients. In a normal year we cook over 750,000 pounds of brisket, 350,000 pounds of pork ribs, 200,000 pounds of sausage and more chickens than you want to count. The chicken is the only place we broke from Thurman's tradition. He would never allow chicken on his pit.
Briskets are cooked 20-24 hours and pork ribs 2.5-3 hours. We hold to the hot-and-fast school of thought on ribs. We use high temperatures and lots of basting to keep them moist. The longer you leave them on the fire the more they dry out. They are not like a thick brisket. Sausages are smoked for 3 hours with 45 minutes on direct heat until they swell and spit juice. They are a combination of beef with pork for taste. Ribs are traditional full spare ribs.
We stop the cooking process on meats before they are finished and refrigerate them for at least 24 hours. This process increases flavor. It is similar to what you do with spaghetti sauce. The problem with doing this at home is that you have to get the temperature of the meat to 38 degrees within four hours.
Can I make reservations?
Reservations for the Salt Lick Driftwood restaurant are available through RESY.
For reservations at our Round Rock location, please call the restaurant directly at (512) 386-1044.
How is meat delivered?
Our meats have been fully cooked on our famous pits and are then frozen and vacuum sealed. To ensure freshness we ship the meats using FedEx. Same day order fulfillment is not available. Central Texas orders may be shipped via Ground while all other orders will need to be shipped 2nd business day. Next business day is available for many zip codes at an additional charge. FedEx may deliver 9AM – 7PM or later during the holidays. There is no way to determine the time of your delivery, it depends on where you fall on your local FedEx route.